the playcentre for 0-6 year olds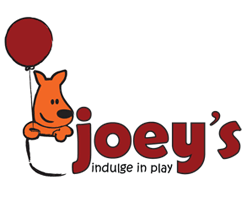 Joey's Café
​
At Joeys we offer fresh, made to order food for children and grown ups.
​
We have an extensive all day breakfast menu, children's menu and sandwich, salad, wraps, bagels and panini menu (no deep fat frying!).
​
All of our deli food is prepared fresh each morning. All of our pastries are baked fresh on the premises and include our very popular homemade lemon drizzle cake, apple and cinnamon slice and banana bread.
We offer seasonal soups homemade on the premises.
We also offer some ready meals for babies – the 100% organic 'Ella's kitchen' range.
​
We have an extensive coffee menu offering a wide selection of ORGANIC caffeine fixes in additional to soothing or reviving herbal teas.
We stock gluten free varieties of bread and wraps. If you or your child are sensitive to any allergen just let us know and we
will try to accommodate you.
​
All of our hot/cold food and drinks can be ordered to go.
Menu
"Healthy options for you and the little ones - snacks, meals and treats - all good, all delicious!"