the playcentre for 0-6 year olds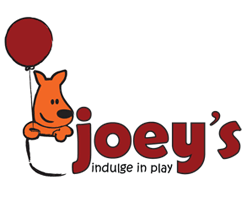 For our customers health & safety, we operate the following:
CCTV in Joeys, the areas covered are shown on screen in the seating area.

Member details: We also record members names, parents names and members dates of birth to ensure compliance with our 0-6 years old policy. Members details are held on a spreadsheet stored locally at Joeys (not on a server or public cloud) solely for this use. Should you wish to have your details erased from this spreadsheet please let us know.

Sign-in sheet: The daily sign-in sheet is held in a folder locally at Joeys, it is not transferred to a digital medium.
If you have any questions please ask to speak to Jenny or Brendan.
How To Contact Us by email - should you wish to contact us in relation to Personal Data, please email us at info@littlejoeys.ie .
Copyright Statement
Copyright © Little Joey's Limited. All Rights Reserved
Except where otherwise specified, the contents of all the pages contained in this web site including without limitation all documents, graphics, files, code, devices, links and the web site's general "look and feel" are copyright © Little Joey's Limited (All Rights Reserved).
Documents published by Little Joey's Limited ("Joey's") on this web site may not be copied, downloaded or printed other than for non-commercial individual reference with all copyright or other proprietary notices and any disclaimer contained within them retained, and thereafter may not be recopied, reproduced or otherwise redistributed. This web site or any part of it may not be incorporated in any other work or publication, whether in hard copy or electronic or any other form. Neither may this web site or any part of it be reproduced on or transmitted to or stored in any other web site or other form of electronic retrieval system. No links to this web site may be included in any other web sites without Joey's written permission. Except for the limited permission stated above, nothing on this web site should be construed as granting any other right or license under any copyright, patent or trademark of Joey's or any third party.
Joey's will use reasonable efforts to include accurate and up-to-date information on this web site, but Joey's makes no warranties, representations or undertakings either express or implied as to the content of this web site, including without limitation, the quality, accuracy, completeness or fitness for purpose of such content, or any content of any other web site referred to or accessed by link through this web site. All users agree that all access and use of this web site and the content thereof is at their own risk. Neither Joey's nor any party involved in creating, producing or delivering this web site shall be liable for any direct, incidental, consequential, indirect or punitive damages arising out of access to, use of or inability to use this web site, or any errors or omissions in the content thereof.
Trademarks
The Joey's logo, the graphical images derived from this logo, the 'indulge in play' tagline and the 'is play your idea of work' tagline, whether or not appearing in large print or with the trademark symbol, are trademarks of Joey's, except where otherwise indicated. The use or misuse of these trademarks or any other materials, except as permitted herein, is expressly prohibited and may be in violation of inter alia copyright law, trademark law, the law of slander and libel, the law of privacy and publicity, and/or communications law. Further, please be advised that Joey's actively and aggressively enforces its intellectual property rights to the fullest extent of the law.
How To Contact Us
Should you wish to contact us in relation to our Copyright Statement, please email us at info@littlejoeys.ie .
SAFETY AT JOEY'S
Our commitment to our young visitors' safety means we have a strict policy on vetting all potential employees. We also vet our suppliers, e.g. our equipment is ROSPA certified. We will always have a first aid trained staff member on site. We pay particular attention to security by ensuring that entry and exit to the premises is strictly controlled and we also operate CCTV.

We operate a set of house rules which can be viewed on arrival but in summary:
• All adults must be accompanied by a child and vice-versa
• Only food and beverages purchased at Joey's may be consumed on the premises
• No cameras or video equipment are allowed except in the party room
• Socks must be worn at all times in the centre
• We reserve the right to refuse admission at any time
** We operate in compliance with prevailing Covid-19 guidlines. Our Covid-19 policies and procedures are available at reception for review.