the playcentre for 0-6 year olds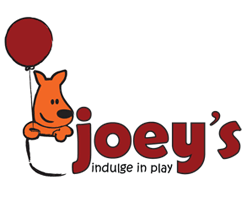 Admission Pricing
Please note new Covid-19 Bookings policy as outlined on our Home Page.
Babies up to 8 months are admitted free of charge.
Admission:
€6.50 per child 9 months up to 6 years

€7.50 for twins/triplets
​
See Parties Tab for party pricing.
Membership - on hold!
[Sorry - but membership at Joeys is on hold until Covid restrictions are fully lifted:]
Unlimited admission

10% discount off parties

€35 per child for 2 months

€55 for two siblings

€65 for three siblings

€50 for twins or triplets
House Rules
- No adults admitted without children.
- Children older than 6 years old may not use the play equipment.
- During busy periods, play sessions may be limited.
- Please read our in-house rules when visiting, e.g. wear socks!
- We operate policies and procedures that are compliant with prevailing Covid-19 guidelines, starting with hand sanitisation and social distancing as you arrive - see signs and ask staff on arrival for further information
​
Access
Joey's is conveniently located on the 1st floor of
the Naas Town Centre
- Two lifts available from car park or mall.
- Designated parking on top floor.
- Disabled access and toilet provided.
Joey's nominated for best new business award
13 October 2007
Joey's comes runner-up in Best New Business Category in Naas Chamber of Commerce Business Excellence Awards.
Facing lots of competition from a large number of new businesses opened in Naas over the last 18 months, Joey's were delighted to come runner-up in the competition which was announced at a Black Tie dinner in the Osprey Hotel on Friday night 12th Oct.

Speaking after the event, co-founder Brendan said "It's really great to get this type of recognition from the business community here in Naas. We want to thank our customers and staff for all their support in our first 9 months in business. We would also congratulate Siobhan and her team at Missy Moo's for winning the category. We'll be back next year hopefully to scoop a first in another category!"
​