the playcentre for 0-6 year olds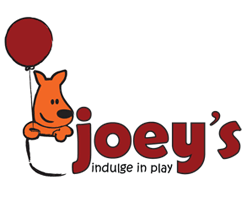 a "joey"
Definition - Oxford English Dictionary
• noun (pl. joeys) Austral. 1 a young kangaroo,
wallaby, or possum. 2 informal a baby or young child.
— ORIGIN Aboriginal.
​
OUR PHILOSOPHY
Our philosophy is simple - "to provide children with a safe stimulating environment - and parents with good coffee and a comfortable chair."

​The inspiration for Joey's came from our experience as parents. Having three children under four means our house can be a hectic place at the best of times and like every parent we were always looking for a place to take them to alleviate the cabin fever. We'd had our fill of wet park benches, disappointing play venues, chicken nuggets and chips and felt there must be a better way.
​
Joey's is the first of it's kind in Ireland. An urban play centre with state of the art facilities focussing on young families, where the needs of the parents are taken every bit as seriously as those of the children. We want to provide a venue where the children can have the best of fun, within sight of mam and dad, while you can sit back and relax for a while with a decent cup of tea or coffee and the paper.

Apart from wanting to be a successful business we want to be part of the community and support Mums and Dads who visit us by offering a whole range of activities apart from the play system and interactive educational computer games. We therefore hope that you will avail of our many classes on offer, feedback and ideas are always welcomed! We also offer free WIFI and Internet access. The fact that Joey's is not a large site means you can relax, while your child plays within view.

Our menu gives you Healthy Eating snacks and refreshments - organic and preservative-free wherever possible - for the whole family (babies as well), and yes we do serve good coffee in nice cups! For those little emergencies there are spare nappies and wipes available.

If we do not meet your expectations then come and speak to one of us - we are a family business, run for families and one of us will always be available to talk to you.
​
............Rhona & Brendan
I'M A TITLE

I'm a paragraph. Click here to add your own text and edit me. Let your users get to know you.
​
July 12, 2023​
​
"We believe that through play, children learn to live, it's as important as that "
" I just wanted to send a little thank-you note for a great morning last week. My son and I totally enjoyed our few hours at joeys and he especially loved the music class.
It is great to take your child somewhere that has the needs of the parents catered for so exquisitely as well as the children. All of your staff are polite and helpful. Well done. We will be back and we will bring some more people. "
Regards,
Lyn & Logan
"Just a quick mail to let you know that I took Raghnaid (22 months) to little Joeys over Christmas, with her friend Morgan (he's the same age) and his parents and other friends with a 6 week old joined us there.
It was really great, the kids had an absolute ball, and the mums and dads got to sit down and enjoy a quiet coffee and an actual conversation.
The layout was good, we could always see what the small ones where up to and everything was very well thought out, down to the portion sizes for the kids food, and the availability of nappies.
All in all a brilliant time was had by all, and we will definitely be back. ..."
From Claire Mee, by e-mail
Testimonials:

MummyMaps.com review:
In search of the elusive 'good coffee/good fun' combo? We've got two (bad-weather proof) playcentres that tick the box.
Joey's Play Centre, Naas, Co. Kildare
When it comes to play centres, size matters and Joey's is big enough to keep the children entertained, whilst being small enough to let you sit down and relax, rather than playing 'hunt the offspring.'

Beyond the requisite soft play area, Joey's also offers short activity sessions such as Music Time, Make & Bake and Arts & Crafts on most days.
The lunch menu offers reasonable choices for you and the kiddos. If it's just caffeine and scones for you, and a babyccino and organic biscuit for them, that's catered for as well.
Essentials and more are provided; changing facilities, highchairs, bottle warmer, microwave, and plastic cutlery. In addition, CCTV screens provide a valuable 'third eye' and free Internet access, newspapers and magazines should keep most grown-ups happy.. There is ample buggy 'parking' space in reception, or – with the exception of particularly busy times such as Friday mornings – plenty of space to take the buggy inside.
Insider tips:
1. Joey's is located on the 1st Floor of the Town Shopping Centre, which is actually Level 4 in the lifts (no, we don't understand either)
2. Park on Level 2A for pay stations and access to the lift.
3. Pop in to mummy-mecca (M&S Food Hall) to grab lunch or dinner before you head home. Life-saver!
(Joey's) is a guaranteed safe haven for Kangas and Roos at any time of year. The only problem may be getting the little ones back in the pouch!